Its that time of year.  Early fall, the children are back in school, and you're still working at harvesting the garden.  Way too early to think about Christmas, but it is the right time for some quick wood turning production work.  That's right, getting ready for the Christmas Fairs in November and early December.  Turn some Christmas ornaments to complement your main products.  These are easy between centers turning and are an opportunity to show off your turning talents.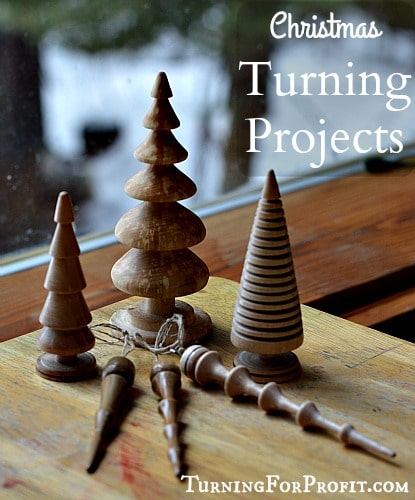 Turned Christmas ornaments can also give you a range of products and prices to satisfy your customers.  It is a great way to utilize off cuts and small pieces of wood in your shop.  Give yourself some time to consider your requirements, your resources, and to get yourself organized for some enjoyable production wood turning.
Quick and Easy Christmas Ornaments

Using small pieces of exotic wood adds color and texture to these small Christmas ornaments.  With a little bit of practice these can be turned in less than 5 minutes.
Light bulb, Christmas tree, snowman, pine cone, bell or anything small will do.  Keep the details simple and smooth flowing for ease of production.  Small brass eyelets and some ribbon are the only extra materials required.
 Christmas Trees
This is a quick project using lighter wood such as Poplar or Aspen.  Once the shape has been turned, the tree is painted green, snow is added, then finally colored dots to represent ornaments.  This is a bigger ornament and that is why you want to use a very light wood.
Good example of how to use the skew chisel to advantage in shaping the tree.  A narrow parting tool will be an advantage as well.
Stand Alone Christmas Trees
These Christmas Ornaments are designed to stand by themselves rather than being hung on a Christmas Tree.  Slightly larger turnings they can be made out of any wood you have available.  This is another opportunity for you to try different techniques and see how they turn out.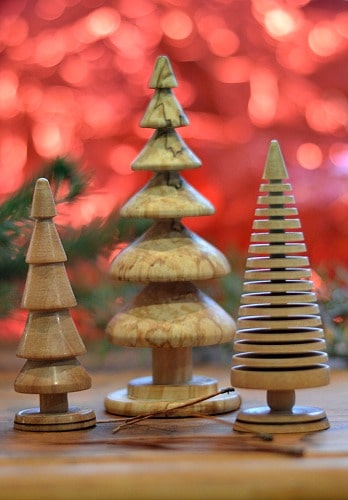 This is my project tutorial on turning wooden Christmas Trees.  These are easy to turn and provide a nice touch for a nativity or a table center piece.
Wooden Icicles
Use these to show off the grain of the wood and the thinness of your turnings.  Turning  icicles out of pen blanks makes great Christmas Ornaments.  This is my tutorial on how to do just that.  Real icicles are not even or symmetrical so you can be creative in your designs.  Give them a shiny finish to reflect the Christmas tree lights.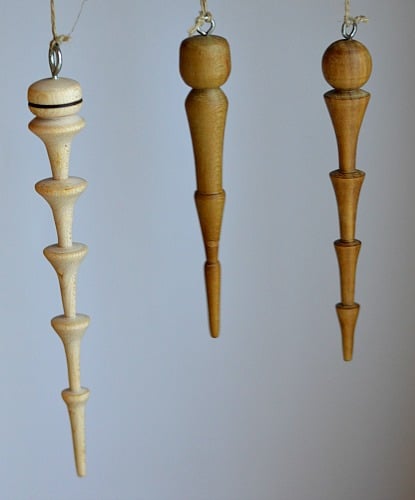 You need to focus on long and thin so that the ornament will be light on the tree.  Again brass eyelets and ribbon will be needed to finish the product.  A smooth glossy finish will enhance the icicle and make it shine under the Christmas lights.
Christmas Ornaments(2 different types of wood)
This video takes you through all three pieces needed to produce the final ornament.  The ball is made of maple and requires hollow turning.  The top finial and bottom icicle are made from a different, and contrasting, wood, with tenons to insert into the maple ball.
Finishing is again crucial to the final product.  A nice glossy finish will reflect lots of light.
I hope this gives you inspiration as you prepare for the busy season ahead.  Obviously you need to price your work according to the amount of time and effort to produce it.  Doing a production run should give you more efficiencies and better turning skills as well.  If you are looking for other turning projects check out out my listing of all the projects available on turning for profit.
I hope you're getting excited about the upcoming season whether you are aiming for Christmas Fairs or doing your turning for the family.  What Christmas projects have you got in mind?
Each day I share a wood turning project on my Facebook page.  Join me there and get the turning project of the day, delivered to your Facebook homepage.  You can also sign up for my newsletter (scroll down a little bit) which will notify you, on a weekly basis, of new projects and post for you to enjoy.  Remember to turn safely.
Save