Privacy Policy

The privacy of our visitors to https://turningforprofit.com is important to us.
When we collect your personal information:
You can sign up for the Turning For Profit Newsletter, which will send you updates of Turning For Profit blog articles.  From time to time, I also send out information that I think will help you become more self-reliant and skilled in your journey toward profitable woodturning.  You can sign up using the sign up box here.
I collect your personal information in order to send you the newsletter, or to complete your purchases through my secure shopping cart.
Turning For Profit uses MailChimp, an email marketing service, to process your personal information and data via opt-in forms. When you opt in to one of our weekly newsletters your personal information is transferred to MailChimp for processing and held securely in our account with MailChimp. This allows us to send you emails and to update your personal information as requested by you. This also allows you to control your subscription and to unsubscribe from our list at anytime, by using the links provided at the bottom of every newsletter.
You can feel confident when signing up for the weekly Turning For Profit newsletter, or making a purchase from Turning For Profit through our online shopping service.
When you give us your mailing address, when making a purchase from TurningForProfit.com, your mailing address is used only to complete your purchase.  No record is kept of your personal information beyond your purchase, except as required by Canadian Federal and Provincial laws, as pertaining to taxation records. For instance, we have to keep records when collecting HST and GST for other provinces to show where parcels from TurningForProfit.com were mailed to.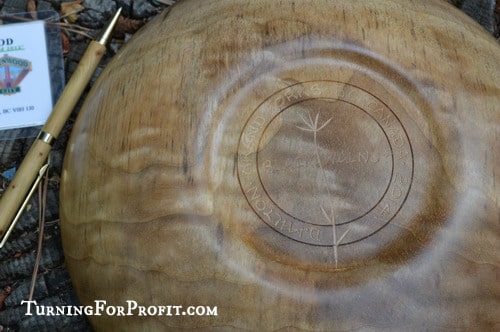 Privacy of Information:
At https://turningforprofit.com, we recognize that privacy of your personal information is important. Here is information on what types of personal information we receive and collect when you use and visit https://turningforprofit.com, and how we safeguard your information. We never sell your personal information to third parties.
Log Files As with most other websites, we collect and use the data contained in log files. The information in the log files include your IP (internet protocol) address, your ISP (internet service provider, such as AOL or Shaw Cable), the browser you used to visit our site (such as Internet Explorer or Firefox), the time you visited our site and which pages you visited throughout our site.
Cookies and Web Beacons We do use cookies to store information, such as your personal preferences when you visit our site. This could include only showing you a popup once in your visit, or the ability to login to some of our features, like our upcoming membership site.
We also use third party advertisements on https://turningforprofit.com to support our site. Some of these advertisers may use technology such as cookies and web beacons when they advertise on our site, which will also send these advertisers (such as Google through the Google AdSense program) information including your IP address, your ISP , the browser you used to visit our site, and in some cases, whether you have Flash installed. This is generally used for geo-targeting purposes (showing New York real estate ads to someone in New York, for example) or showing certain ads based on specific sites visited (such as showing cooking ads to someone who frequents cooking sites).
DoubleClick DART cookies We also may use DART cookies for ad serving through Google's DoubleClick, which places a cookie on your computer when you are browsing the web and visit a site using DoubleClick advertising (including some Google AdSense advertisements). This cookie is used to serve ads specific to you and your interests ("interest based targeting"). The ads served will be targeted based on your previous browsing history (For example, if you have been viewing sites about visiting Las Vegas, you may see Las Vegas hotel advertisements when viewing a non-related site, such as on a site about hockey). DART uses "non-personally identifiable information". It does NOT track personal information about you, such as your name, email address, physical address, telephone number, social security numbers, bank account numbers or credit card numbers. You can opt-out of this ad serving on all sites using this advertising by visiting http://www.doubleclick.com/privacy/dart_adserving.aspx
You can choose to disable or selectively turn off our cookies or third-party cookies in your browser settings, or by managing preferences in programs such as Norton Internet Security. However, this can affect how you are able to interact with our site as well as other websites. This could include the inability to login to services or programs, such as logging into forums or accounts.
Deleting cookies does not mean you are permanently opted out of any advertising program. Unless you have settings that disallow cookies, the next time you visit a site running the advertisements, a new cookie will be added.
Anti-Spam and email policy statement:
The Turning For Profit email newsletter is sent out once a week on average.  If you receive a newsletter from Turning For Profit it is because you signed up on my website using the opt in forms on my website or your friend thought there was something in it that you would enjoy reading, and forwarded their copy to you.  I don't automatically add your name to my email list.  You have to request it.
I will not spam you.  I promise.
If you are tired of receiving my emails, you can unsubscribe using the button at the bottom of every email.
GDPR Compliance for Residents of the EU
If you are a resident of the EU you have certain rights under the GDPR.
You have the right to be forgotten 
You can send an email to robin@turningforprofit.com to have all records of your relationship with us deleted.  When requested to delete your personal information we will delete your name and email from our email list retaining only the record required to prove our compliance with your request or to comply with Canadian taxation laws. Once the information is deleted you will no longer receive emails from us.
You have the right to objection
You can request to limit or disallow certain uses of your personal information.  Doing so may inhibit your use of our website or prevent us from sending you information via our newsletter.  To do so, use the unsubscribe link provided at the bottom of every newsletter we send or send an email to robin@turningforprofit.com
You have the right to rectification
You can access the personal information we have about you at anytime by using the link provided at the bottom of every email we send you.  You are able to correct this information or delete this information anytime.
You have the right of access
You can access the personal information we have about you at anytime by using the link provided at the bottom of every email we send you.
You have the right of portablility
You can request that your personal information be transferred to another organization.  To do so send an email to robin@turningforprofit.com
CAN-SPAM Act
In accordance with the Controlling the Assault of Non-Solicited Pornography And Marketing Act of 2003, 16 CFR Part 316 (CAN-SPAM), TurningForProfit follows all applicable digital communication laws. As part of our services, a valid email address is required to leave a comment, purchase a product, join our member library, interact on social media, and receive our newsletter. You may unsubscribe from email correspondence at any time, however, by doing so, you will lose access to prior subscriptions, purchases, and account information. If your attempts to unsubscribe from our communication have been unsuccessful, please email robin@turningforprofit.com and your account will be permanently removed from our system.
DMCA Notice
TurningForProfit.com complies with the Digital Millennium Copyright Act, Title 17, United States Code, Section 512(c)(2) ("DMCA"). All content on TurningforProfit.com is the original work of the author unless otherwise noted, cited or quoted. If you believe that anything on the Website constitutes infringement of your copyright, please notify us using the following procedure:
The DMCA specifies that all infringement claims must be in writing (either electronic mail or paper letter) and must include the following:
A physical or electronic signature of the copyright holder or a person authorized to act on his or her behalf;
A description of the copyrighted work claimed to have been infringed (multiple claims of copyright works at a single online site are covered by a single notification);
A description of the material that is claimed to be infringing and information reasonably sufficient to permit the service provider to locate the material;
Information reasonably sufficient to permit the service provider to contact you, such as an address, telephone number, and an email address;
A statement that you have a good faith belief that use of the material in the manner complained of is not authorized by the copyright owner, its agent, or the law; and
A statement that the information in the notification is accurate, and under penalty of perjury, that you are the owner or agent authorized to act on behalf of the owner of an exclusive right that is allegedly infringed.
Submit this information electronically to:
robin@turningforprofit.com
Or physically to:
Turning For Profit
Box 667
Greenwood, BC V0H 1J0
Canada
TurningForProfit.com will respond to any DMCA complaints in a timely manner and will remove any material that is found to be a copyright infringement.
Affiliate Disclosure:
I do accept forms of cash advertising or sponsorship. I do accept and keep free products, services, travel, event tickets, and other forms of compensation from companies and organizations. This compensation will not influence the content, topics or posts I write.
I believe in integrity therefore I will always give my personal opinion, whether or not it shows a product or company in a favorable light.  Compensation received may influence the advertising content, topics or posts I write. That content, advertising space or post will be clearly identified as paid or sponsored content.
The views and opinions expressed in this blog are my own. I only endorse companies, products and services that I believe, based on my own experience, are worthy of endorsement.  All product or service claims should be verified with the manufacturer.
Many of the links to products on this website are affiliate links to products or businesses that I recommend.  Affiliate links provide a means for us to earn fees.
We are a participant in the Amazon Services LLC Associates Program, an affiliate advertising program designed to provide a means for us to earn fees by linking to Amazon.com and affiliated sites.
Information Disclaimer:
The information published on this site is for educational information only.  It is not intended to take the place of personalized medical counselling, diagnosis, and treatment from a trained health professional.  It is not meant to take the place of personalized financial counselling. The owner of this site makes no representations as to the accuracy or completeness of any information on this site or found by following any link on this site. The owner will not be liable for any errors or omissions in this information nor for the availability of this information. The owner will not be liable for any losses, injuries, or damages from the display or use of this information. These terms and conditions of use are subject to change at anytime and without notice.
Save
Save